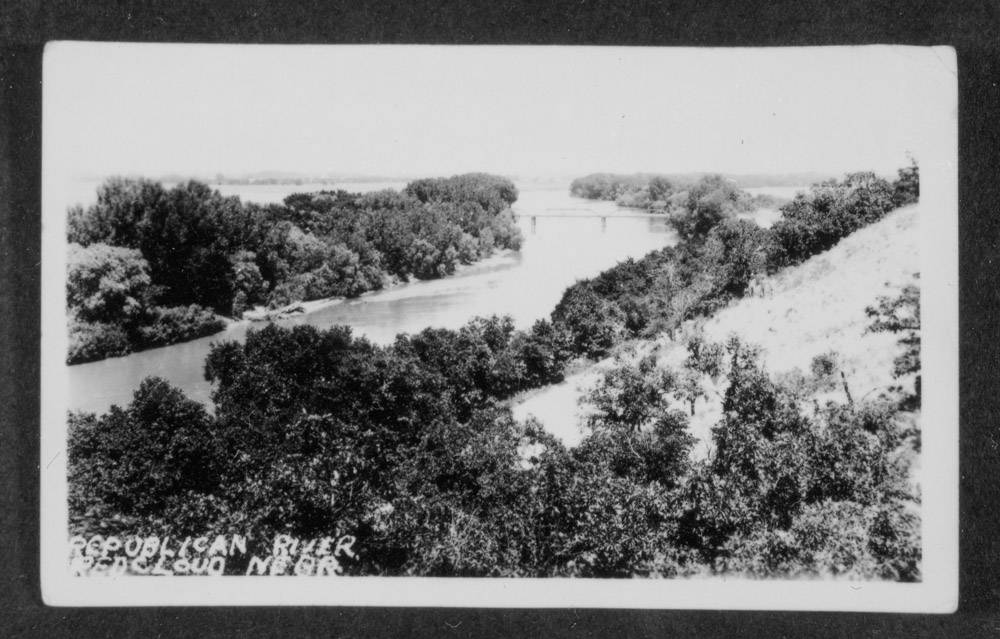 Yet another property maintained by the City of Red Cloud and volunteers is "Indian Princess Hill." Located on a river bluff, it offers a picturesque view of the area. Accessed by going to the River Road just south of the river, then west to the first "road" on your left and up to the top of the hill, many have enjoyed using this as a picnic site, also. Over the years this has also been a favorite spot to sled or toboggan. It was selected for its significance to one of the town's early historical events that occurred in 1874. This was the death of Polygrandaha, the daughter of Medicine Horse, great chief of the Otoe Indians.
After Red Cloud had been established, a semi- annual event that always proved exciting was that of some Indian tribes traveling through to their hunting grounds in western Kansas. This occurred in the spring and/or fall. They were accompanied by a military detail and later by an agent. Due to the fact that many of the town's inhabitants were European immigrants or had grown up in the eastern U. S., they found this event a curiosity. Some of the townspeople purchased robes or furs from tribe members when they traveled through Red Cloud.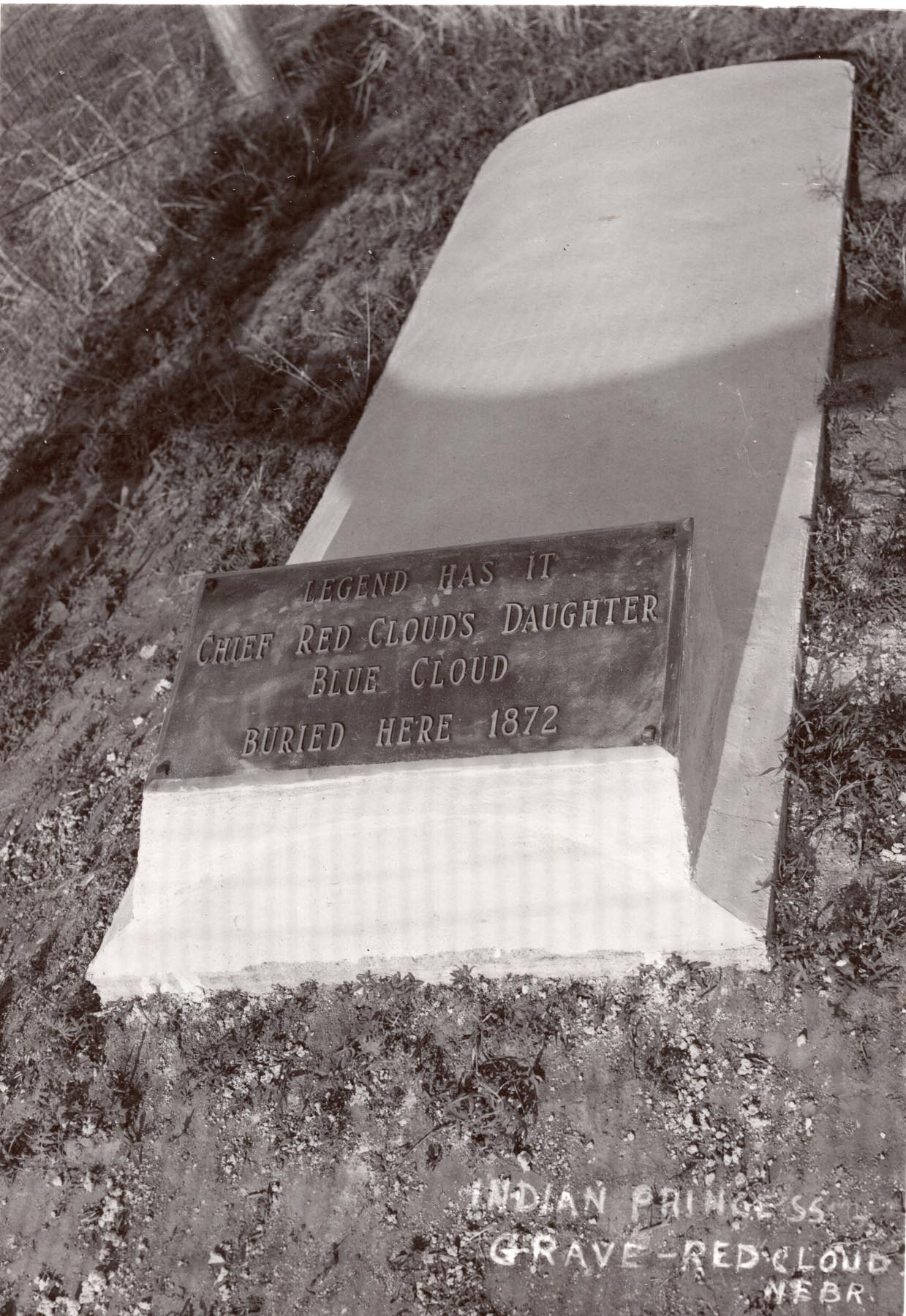 It was while the Otoe Tribe was traveling through in November of 1874 that the aforementioned event occurred. The chief's daughter had been ill and her condition was grave. The tribe was camping on one of the bluffs south of the river. Members had attempted to treat her using heated stones. For many generations this had proven useful in helping dispel whatever illnesses they encountered. Unfortunately, she had contracted scarlet fever and the heat only worsened her condition and hastened her death. In desperate attempts to save her life they had even sought the counsel of Dr. T. B. Williams. An early physician in Red Cloud, he agreed to help and rode back to camp with those who had come for him. Indian tribes had not been exposed to this disease until coming into contact with "whiteman." Therefore, it proved very deadly and she did not respond favorably to traditional Native American treatment.
It was never proven that Red Cloud, who was known in his native Lakota language as Mahpiya-Luta, and heralded chief of the Oglala Sioux, was ever as far south as present-day Red Cloud. According to the Fort Laramie Treaty, drafted and signed in 1868, Mahpiya-Luta, on behalf of his tribe, agreed not to go south of the Platte River. Therefore, the town of Red Cloud was named largely because Silas Garber had persuaded those who had the honor of naming the town to do so. His desire had been based on how impressed he and others had been with Red Cloud's negotiating skills and the respect they had fostered for him based on other events.
For years, local legend clouded the truth by placing Chief Red Cloud's daughter, Princess Blue Cloud, as the primary character associated with this site. Local research along with plains and Indian history have dispelled any notions that this was true.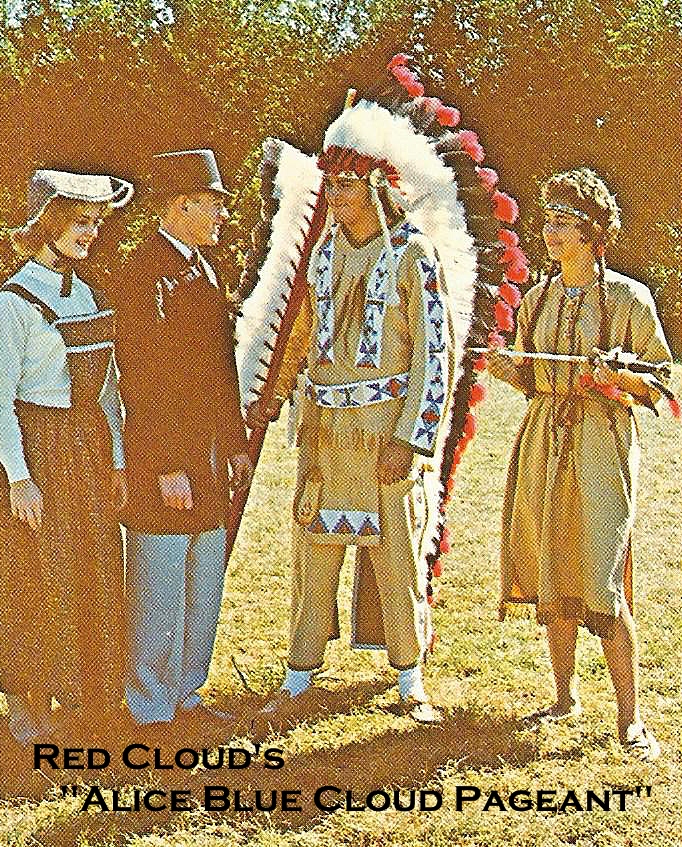 However, over time, this local legend (along with possible embellishments), remained one of interest to the locals. Someone decided that such an event shouldn't go unnoticed and that a performance was in order. Thus, Red Cloud's "Alice Blue Cloud Pageant" was conceived. Many of the roles were filled by theatrical talents from the local high school and the pageant was held annually on the Fourth of July. It is unclear how many years this continued, but a photo confirms that it may have been at its prime around 1965.
– Suzi Yost Schulz