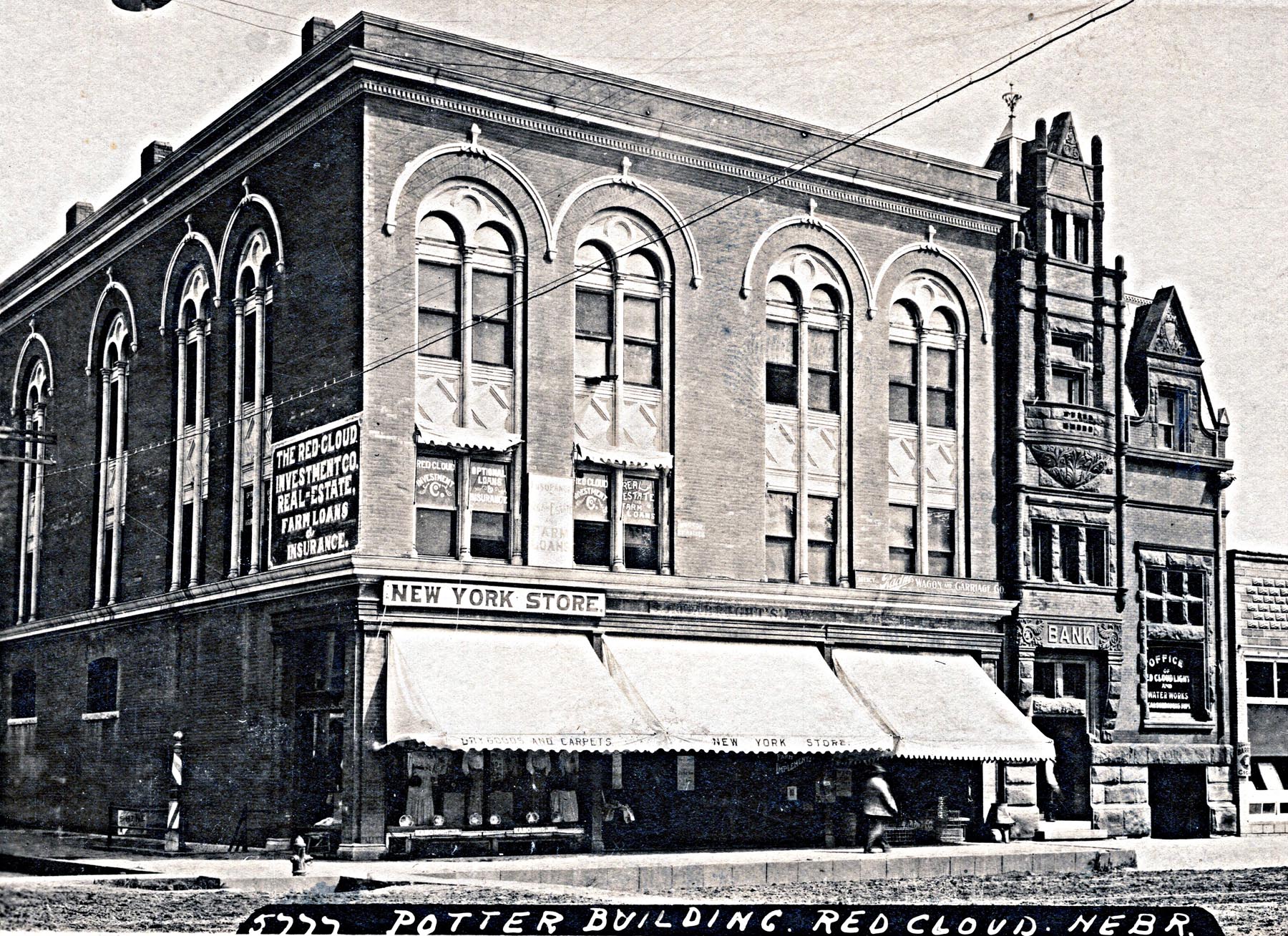 TRIVIA TIME: How many brick were used to form the exterior walls of the Potter Building?
If your guess was about 248,000 you are absolutely correct!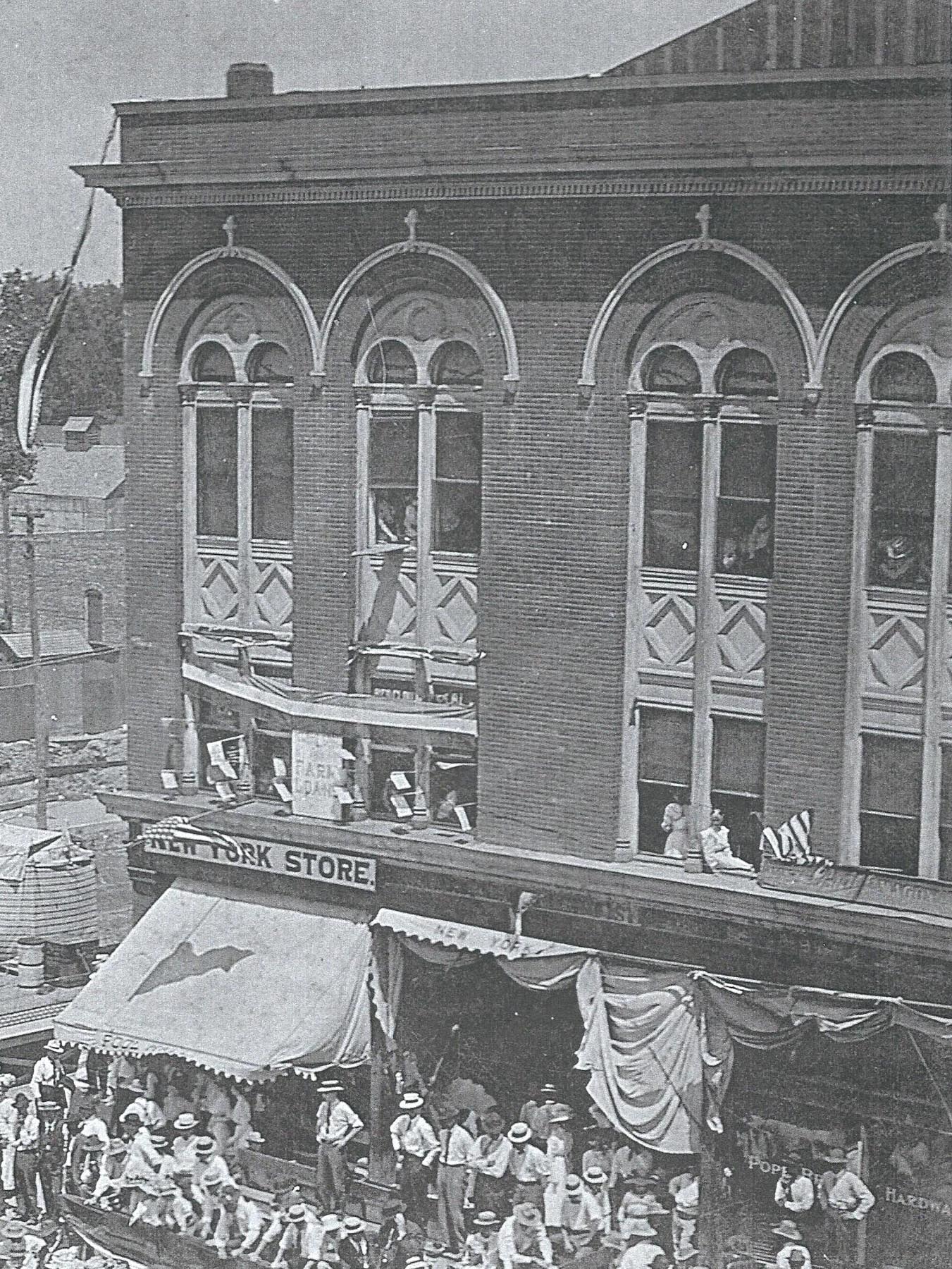 Another downtown building conceived in 1901, the Potter Building was sometimes referred to as Potter-Wright or Potter-Pope. Offering three upper stories with four floors of commercial space, it dwarfed many of the other downtown structures. One of the local papers bragged how a building such as this would be a credit to a city four or five times the size of Red Cloud. In another issue it was chronicled that a large number of our citizens might have to look into getting their necks straightened. They claimed the condition was due to their prolonged gazing to the top of the town's latest addition. It went on to marvel at the excellent view that could be had when one was atop the structure. For whatever reason, the third level was not finished until 1902. Finishing touches on the exterior ground level included a brick sidewalk and concrete curb.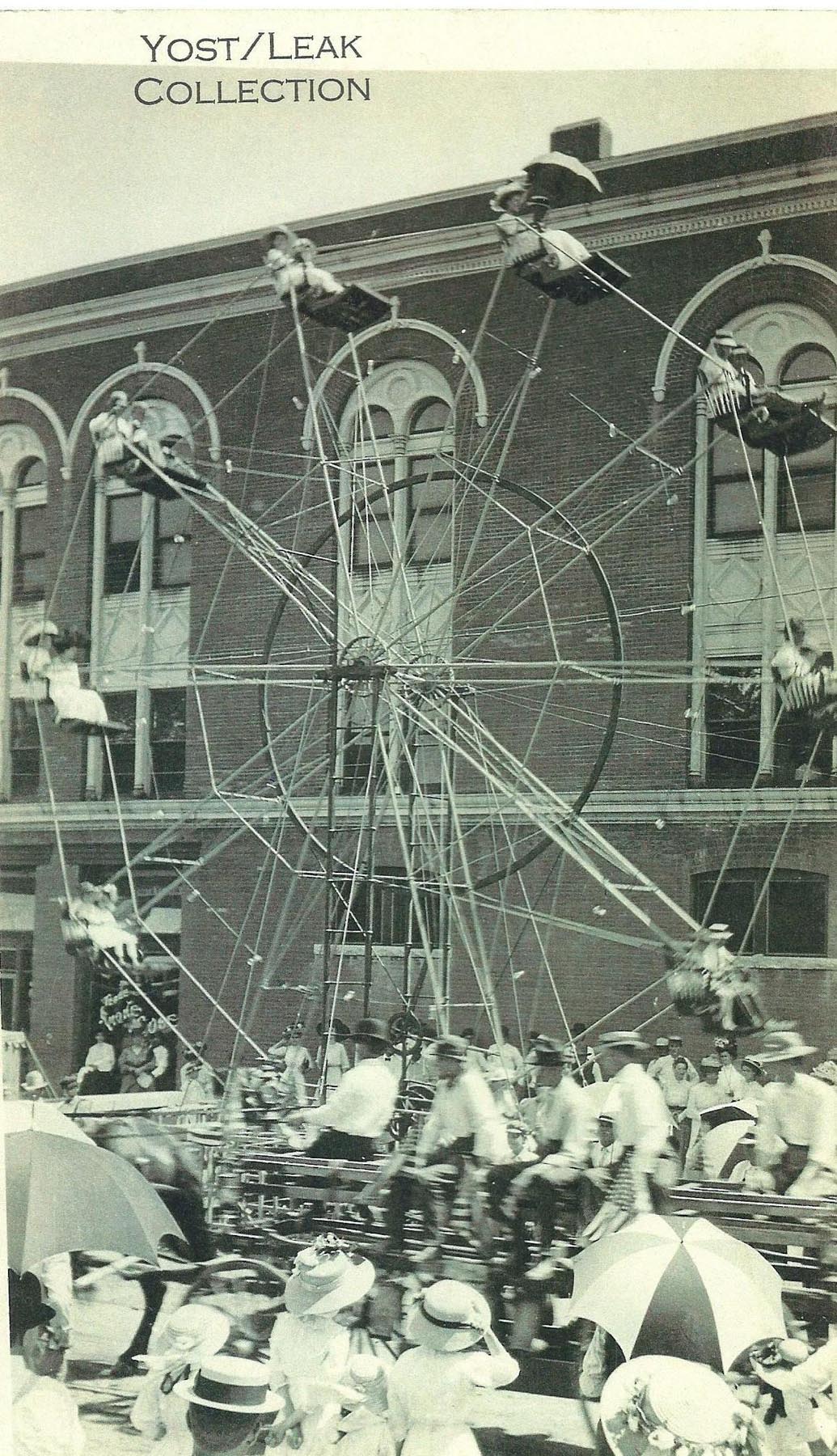 As was common with numerous businesses in Red Cloud, there was also commercial space in the basement. Some of these were accessed by steps down from the street level and many were skirted by ornamental cast iron fences. Another common feature of these basement spaces were full-sized egress windows which allowed for natural light to the lower levels. An iron grate placed level with the sidewalk provided security above these windows. Many of the foundations of the downtown businesses were built of limestone blocks quarried in this area. Wright and Pope Bros. were the building's first occupants with hardware on the first floor and farm implements on the second. The upper floors could be accessed by a freight elevator as was the case with most of the town's two-story structures with basements.
The New York Store, The Chicago Store, and Hadell's Cash Store and Bargain Basement were some of the businesses associated with the building that advertised in the local papers. Other businesses and enterprises that occupied the building over time included various clothing and dry goods stores, as well as real estate, abstract, law, and insurance offices. By at least the 1940's the second story was converted to apartments.
After its completion in 1902 the upper floor was home to various lodges, fraternal orders, and secret societies for both men and women. Listed among these organizations were the Fraternal Order of Masons and their sister society, The Order of Eastern Star.
The basement had a history of housing numerous businesses, especially barbers, as well as their accompanying tonsorial parlors and bathhouses. A newspaper ad from years ago encouraged the reader to come there when in want of an annual bath. Another one alerts the reader that both cold and hot baths can be had. Later, those spaces were also used by beauty shops.
On the north wall of the building near the main street, you can still see ghost signage for "The Red Cloud Investment Company."
– by Suzi Yost Schulz