Whatever one's needs or wants, the livery barns competitively offered a wide variety of amenities for their customers. Sanborn Fire Maps confirmed some Red Cloud businesses owning their own livery barns.
One local enterprise needing a barn was the Red Cloud Street Railway Line which operated from 1888 to 1917. It purchased one of the existing barns to house their teams and streetcars outside the hours of operation. Their barn was located on the northeast corner of East Fourth Avenue and Elm Street and had originally been built in 1873 by J. C. Warner. By extending their tracks along East Fourth Avenue their horses and streetcars were directed into the barn.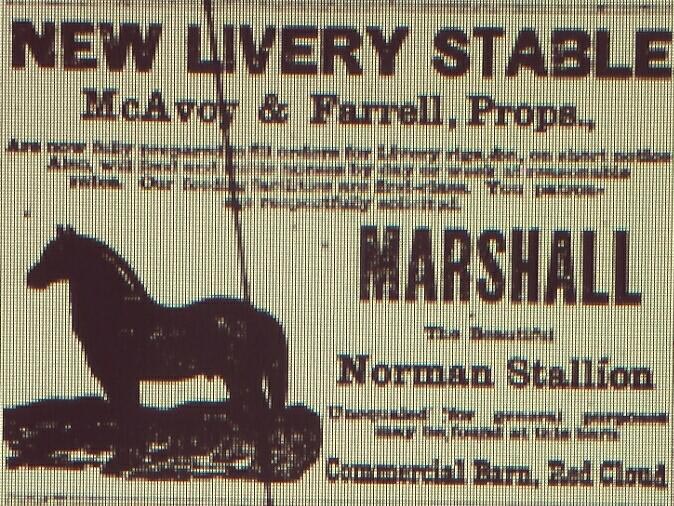 Advertisement for "Marshall," a Norman Breeding Stallion found at the commercial barn in Red Cloud
Another group of livery customers were area residents. Transportation for social calls, community events, and the need to travel longer distances were sometimes reasons that called for livery services. Other locals didn't need a driver since they boarded their personal steads and rigs in one of the livery facilities. Other local livery barn patrons were farmers who needed to bring their teams and wagons to town to get supplies or trade. Many times this only occurred once a month but could involve the larger part of a day. Ensuring that their animals were well cared while in town often involved boarding them at one of the local liveries.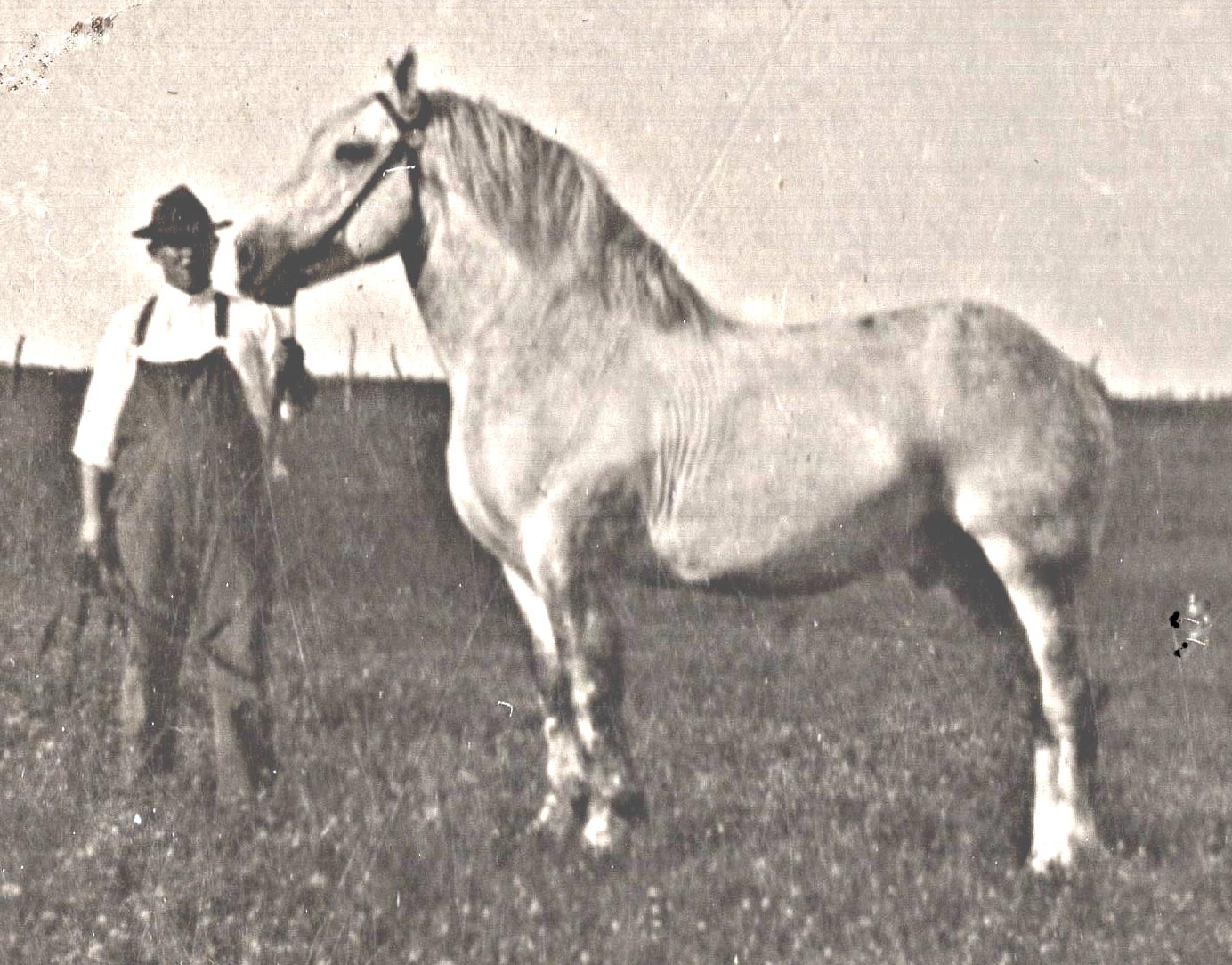 Charley Wolfe with Prized Belgium Stallion
Horse breeders also found a use for livery facilities. Boarding their prized studs in one of the livery barns not only afforded greater exposure for their animal, but also proved conducive to their stud being able to service a larger number of mares. Horses boarded locally for breeding purposes were mainly of two types – one for work and the other for pleasure, riding and racing. Percherons, Normans, and Belgians were in demand for work breeds, thoroughbreds proved popular for racing, and other refined breeds were chosen for personal use. The latter were sometimes more reasonably priced. However, serious money was sometimes devoted to the working and racing breeds. Newspaper ads and fliers containing detailed descriptions and lengthy pedigrees were used as a means of advertising.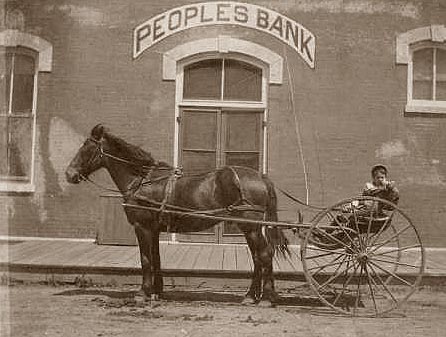 Boy waiting in trotter outside of Peoples Bank
Horse racing, usually with trotters, proved a popular local spectator sport, especially before 1900. Initially fairgrounds were located east of town, but were soon relocated to one mile west of town on the north. The race track was visible from the air for many years after a bugle call signaled the start of the final race. Eventually, local factions with negative views on the sport and associated activities won out and local racing activities (at least the public ones) were suspended. A photo of a little boy in his father's trotter was taken outside one of the local banks many years ago. Over time many have surmised as to what "the rest of the story" really was.
On certain days ghost writing of the Peoples Bank sign can still be deciphered on the south side of the Miner Store on West Third Avenue.
– by Suzi Yost Schulz